Rigging swimbaits using quick drying "Super" or cyanoacrylate glue:
There are many ways to rig a swimbait and many ways to use glue in the rigging process. The following is the technique that I currently use at home when I am pre-rigging baits for an up-coming trip. It keeps most of the glue inside the bait but it is a longer and more precise process than my "on the water" technique.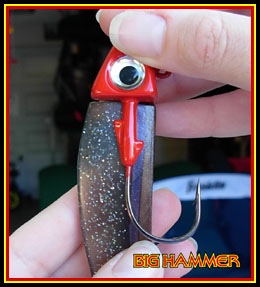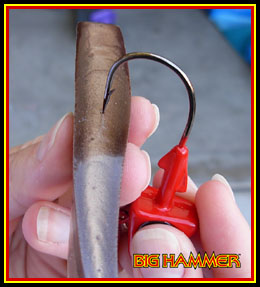 Step 3) Hold the jig head up to the swimbait again, this time slightly forward. Note where the hook should enter the front of the swimbait so that the top of the swimbait is flush with the top of the jig head.
Step 4) Push the hook into the front of the swimbait slightly. Turn the swimbait so that you are looking directly at the back of the bait. Looking at the swimbait from this direction will help you rig it straight.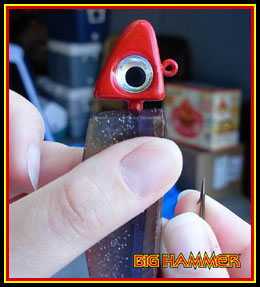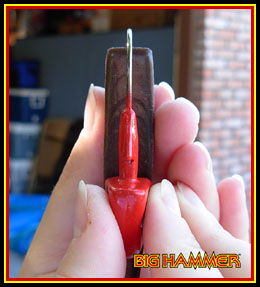 Step 5) Slide the swimbait on the jig head and stop just when the hook starts to come out of the mark you made in the back of the swimbait. If possible, do this in one motion as stopping and starting may cause crooked rigging. It is best to try and grab the swimbait where the hook has already gone through. This will help crooked rigging due to squeezing of the swimbait while rigging.
Step 6) Make a mental note of the distance between the back of the bait keeper on the jig head and the front of the swimbait. Remembering this distance will allow you to skip Step 2 the next time you are rigging a swimbait on that size jig head.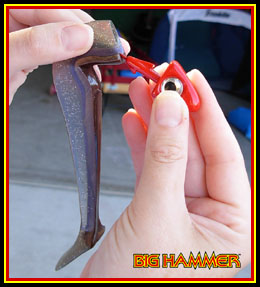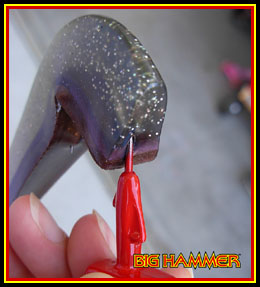 Rig the bait as you normally would. When you get the point where the head of the swimbait is just touching the bait holder on the jig head stop and put a small drop on the bait holder and continue rigging. As quickly as possible continue rigging the bait as you normally would. With a little practice you should be able to get a strong bond without any of the glue oozing out of the gap between the head of the swimbait and the jig head.